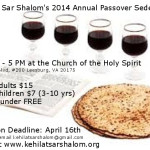 Thank you for your interest in our Passover Seder. This is the registration form.
YOU MUST PAY FOR YOUR REGISTRATION IN FULL! IF YOU ARE PAYING ONLINE, YOU WILL NEED YOUR PAYPAL UNIQUE TRANSACTION ID TO COMPLETE THE REGISTRATION. YOU CAN MAKE YOUR REGISTRATION PAYMENT ONLINE BELOW BY CLICKING THE DONATE BUTTON.
ONCE YOU HAVE PAID, PLEASE RETURN TO THIS PAGE TO REGISTER.
PLEASE WRITE "PASSOVER SEDER" IN THE PURPOSE FIELD
We would sincerely like to thank you for your financial contributions to Kehilat Sar Shalom in 2011. If you would like to receive a tax receipt for your 2011 contributions, and have not already picked yours up at the congregation, please complete the following form and we will send it to you. Note that there are two options for delivery.
US Mail – If you would like your receipt send as a hard copy in the mail, we will get that right out to you. We ask that you please allow up to 2 weeks to receive your receipt. Kehilat Sar Shalom, however, can make no guarantee of delivery or time frame.
E-mail – Obviously, this is the quicker way to receive your document. Some people are sensitive about certain information traveling through the internet. Your receipt will contain your name, address, and financial contributions for 2011. It will NOT contain any personal account, banking or PayPal account information.
We hope that you will continue to support Kehilat Sar Shalom, regardless of which church or congregation you call home. You can make a donation right now by clicking the button to the right. There are some who have chosen to use the Bill Pay feature of their bank to send monthly tithes and offerings. And of course, we would love to see you at services each Shabbat.
"Bring the whole tithe into the storehouse, so that there may be food in My house, and test Me now in this," says the LORD of hosts, "if I will not open for you the windows of heaven and pour out for you a blessing until it overflows." Malachi 3:10
May the Lord indeed open the windows of heaven for you this year.
Join us in celebrating the High Holidays, Messianic style! Contact us for more information on any of these events. Unless otherwise noted, all services will be held at:
Christ Community Church, 21660 Red Rum Drive, Suite 188 (map) Ashburn, VA 20147
Service Date/Time Location Erev Rosh Hashanah Wednesday, September 28, 7:00 pm Rosh Hashanah Thursday, September 29, 10:30 am Tashlich Thursday, September 29, approximately 1:30 pm Lake Fairfax Park Picnic Following Tashlich, we will have our
Oneg
picnic-style in the park Lake Fairfax Park Erev Yom Kippur Friday, October 7, 7:00 pm Yom Kippur Saturday, October 8, 10:30 am Interactive Jonah Reading Saturday, October 8, 3:00 pm Ne'ilah Service Saturday, October 8, 6:00 pm Break-Fast Saturday, October 8, at sundown Sukkot Celebration Saturday, October 15, 10:30 am
Please accept our sincere apologies, but the online registration for this event is now closed. For more information, or to see if there is additional space available, please send an e-mail to: info@kehilatsarshalom.org.
Thank you.