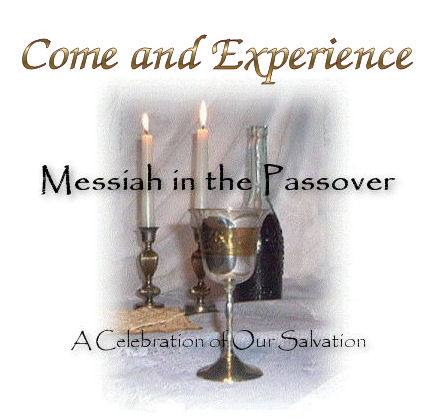 Passover. It is a time to remember the deliverance of the children of Israel from slavery in Egypt to freedom. It is a time to remember that those who are slaves to sin have also been freed. And both were accomplished with a sacrifice.
The Passover seder is the time we remember these things. From the very beginning of the festival and the removal of leaven from our homes, we are pointed directly to the power of God to save, and our need for that salvation. Won't you join us in cooperation with CrossCurrent Ministries as we celebrate the Messiah in the Passover together.
Location:
Faith Bible Church
21393 Potomac View Road
Sterling, VA 20164
Date: Saturday, April 23rd, 2011
Time: Doors open at 4:30 pm, Seder Service begins at 5:00 pm sharp
Price: $20.00 per person, Children 3 – 10 $10.00, Children 0 -2 free
You MUST make your reservations no later than April 10th, 2011.
Reservations may be made online, or in person at Kehilat Sar Shalom or CrossCurrent. Your payment must be received no later than April 10th.
Payments will be accepted online through Pay Pal when you RSVP or can be made in person (Cash or Check) on either Saturday, March 26th, April 2nd, or April 9th at Kehilat Sar Shalom (10 am – 2:00 pm). Payments can also be made in person at CrossCurrent on Sunday, March 27th, April 3rd, or April 10th.
If you are planning of bringing children with you to the seder, click here for some tips regarding children.
For more information, you can send an e-mail to: info@kehilatsarshalom.com
To register for this event, please click here.
Once you have registered, you will be directed to the payment page, or you can click here to submit your payment online.